Boostceuticals has combined science and nature to create Quercetin supplement manufactured with the highest quality standards in the USA in an FDA certified facility adhering to all GMP requirements. Quercetin 500mg is recommended for many people due to its wide range of benefits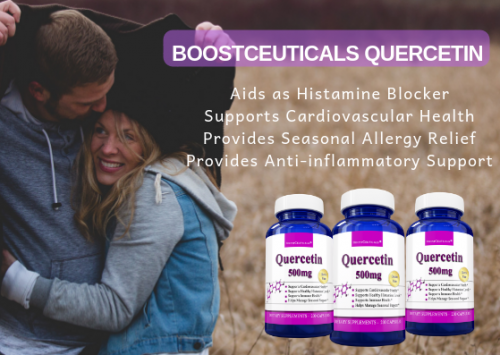 New York NY, United States - October 25, 2018 /MarketersMedia/ —
Quercetin is a plant pigment (flavonoid) which is found naturally in a number of foods (including apples, onions, teas, berries, and red wine) and also in some herbs (such as ginkgo biloba and St. John's wort). The benefits that Quercetin can offer are longevity in life, a healthier heart, overall body strength and endurance, an enhanced immune system, maintenance of normal blood pressure, anti viral properties and more. Quercetin acts as an antioxidant, scavenging free radicals (chemical by-products known to harm cell membranes and damage DNA). Available as a dietary supplement, Quercetin also possesses antihistamine and anti-inflammatory properties. Quercetin is even regarded as one of nature's best anti inflammatory allergy relief natural medicine additions.
The problem for most supplement consumers is that they are forced to make difficult decisions when choosing which products to use. Most supplements are usually manufactured with flow agents or lubricants to help run processing equipment faster that actually detract from product quality. Moreover, the vast majority of these products are filled with potentially toxic ingredients and contaminants that can potentially do more damage than good.
Boostceuticals Nutrition, a rapidly growing supplement brand that has the right balance of nature and science, recently re-introduced their highly-anticipated Quercetin Supplement. This potent Boostceuticals Quercetin is non GMO and contains none of the following - stearates, coloring, additives, lactose, soy, sugar, gluten, or wheat,and it surpasses the necessary 99% purity rating set by the Food and Drug Administration (FDA).
"We've always admired the amazing power of Quercetin Supplementation, but we've been disappointed to see how many products contain potentially hazardous fillers that outweigh the benefits of this super ingredient," said Leo Eliades, CEO of Boostceuticals Nutrition. "We created Boostceuticals Quercetin to bring a 100% unrefined, safe and effective supplement to the public, so they can experience what we've known for years."
Quercetin plays an important role in the development of a superior immune system. It is a very effective immune system booster providing stronger defenses against outside stressors. Quercetin calms immune cells, preventing or reducing the release of histamines-the substances that cause allergy symptoms. Numerous studies have investigated and validated these properties, which in addition to relieving allergies, can also help treat asthma.
"Our main goal with Boostceuticals Quercetin 500mg was to showcase the valuable and natural benefits of Quercetin supplements," said Eliades. "We wanted to show people how a premium-quality Quercetin Supplement can potentially change lives for the better, and that's exactly what we're doing."
Boostceuticals Quercetin 500mg has been re released on Amazon.com. To celebrate, Boostceuticals is giving away a special 20% off Amazon discount coupon code so anybody can try their Quercetin. This way more people can experience this breakthrough supplement at the lowest possible launch price.
To get yours now, visit https://boostceuticalsnutrition.com/quercetin
The Quercitin Supplement is popular and can go fast, hence the company may have a limited supply.
Contact Info:
Name: Alicia Walters
Organization: Boostceuticals Nutrition
Address: 228 Park Avenue, S# 71493

Video URL: https://www.youtube.com/watch?v=rgVTKVKfO4I&t=10s
Source URL: https://marketersmedia.com/boostceuticals-announces-release-of-groundbreaking-quercetin-supplement/427468
For more information, please visit http://www.boostceuticals.com
Source: MarketersMedia
Release ID: 427468