Leading Manhattan tax attorney Steven Goldburd, partner at Goldburd McCone LLP in New York, reveals defense strategies for tax evasion cases. For more information please visit https://www.goldburdmccone.com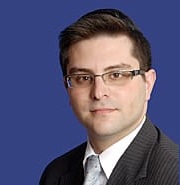 Manhattan, NY, United States - February 14, 2020 /MM-REB/ —
In a recent interview, leading Manhattan tax attorney Steven Goldburd, partner at Goldburd McCone LLP in New York, revealed how to best defend a tax evasion charge.
For more information please visit https://www.goldburdmccone.com
When asked for a comment, Goldburd said, "If you've been accused of tax evasion, then the IRS thinks you're guilty of intentional wrongdoing, not simply negligence or carelessness. Many people believe there's no way out once charged with tax evasion. However, several defense strategies are at your disposal."
Examples of tax evasion include understating income on purpose, not filing tax returns, not working with tax authorities, using cash to avoid taxes, among others.
As tax evasion is considered a crime, Goldburd explained, several defenses can be employed to get out from under a charge.
"For instance, the prosecution might not be able to provide sufficient evidence of intentional or purposeful wrongdoing on your part. In this case, your legal representation can show that you forgot to file a tax return or that the IRS made a mistake while calculating your taxes," he said.
Goldburd continued by saying, "It might also be the case that the taxpayer received inaccurate information from a tax professional or accountant, leading to a misunderstanding of the law. If so, then it could be argued that the taxpayer didn't believe he or she was evading taxes."
Following this, a tax attorney could also claim that a taxpayer made a mistake on their taxes.
"It's important to approach this defense strategy with some caution. Certain types of mistakes that are generally accepted, include not knowing exactly when taxes were due or what needed to be reported on tax returns. You cannot simply claim that you didn't know you needed to pay taxes," he said.
In other words, Goldburd explained, the IRS is not allowed to follow through with a tax evasion charge due to errors or carelessness as they must show intent to actually evade taxation.
One item to be mindful of is the difference between civil and criminal charges. While in a Civil Tax case citing the statute of limitations is a possible strategy to avoid tax liabilities, in the criminal arena, the IRS has unlimited time to begin it's case.
When asked to explain further, Goldburd said, "In general the IRS must adhere to a six year statute of limitation when proceeding with a civil tax determination. However in the case of a tax evasion or fraud charge, there is no time limit. Though you may be clear of a civil issue after six years has elapsed, the IRS is not constrained if they are able to prove criminal intent."
According to Goldburd, if charged with tax evasion by the IRS, the best thing to do is to immediately contact a seasoned tax attorney to devise the best strategy possible.
Source: http://RecommendedExperts.biz
Contact Info:
Name: Steven Goldburd
Email: Send Email
Organization: Goldburd McCone LLP
Address: 42 W 38th St #901, New York, NY 10018, USA
Phone: 212-302-9400
Website: https://www.goldburdmccone.com
Source: MM-REB
Release ID: 88945961