Finding the right bathtub refinishing company in Aurora, IL recently became much more simple. Enter Chicago Tub Pros now accepting customers in the extended area.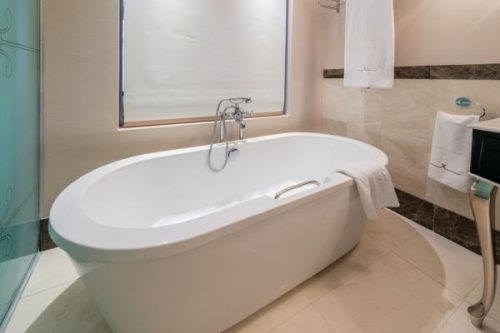 Chicago, United States - August 10, 2018 /PressCable/ —
A damaged damaged, worn out, chipped, difficult to clean, or simply not the preferred color bathtub doesn't have to be an expensive nightmare. In fact, many experts suggest replacing it may not be the best move for someone interested in saving money, but still wanting to end up with a like-new bathtub. Master bathtub refinishers, Chicago Tub Pros recently announced their launch in Aurora, IL, to help solve this problem in a way that leaves customers smiling. All bathtub refinishers are certainly not the same, but the company stands apart from competitors with a solid reputation of high quality craftsmanship at an affordable price.
According to Chicago Tub Pros refinishing an Aurora bathtub can be a low-cost alternative to its full replacement. An expensive new bathtub doesn't have to be bough if it has an outdated color, stains, moldy grout lines, cracked and leaking fiberglass or other hard-on-the-eye, or functional damage. The same is true for leaking tile and terrazzo shower pans. A highly trained specialist of Chicago Tub Pros can carefully assess client needs and restore the surface of a bathtub or shower tiles to a look and feel that truly impresses.
"We can save you thousands of dollars in demolition, mess and replacement procedures, which often take a very long time to finish," commented a spokesperson from the company. "In fact, the average cost to remove and replace a bathtub is around $3100 or more, according to the National Kitchen and Bath Association (NKBA). Our bathtub refinishing process averages a savings around 75% of the cost of a tub replacement. We guarantee you won't be able to tell the difference between a brand-new bathtub and your newly refinished one! What could be better?"
Chicago Tub Pros guarantee a complete restoration of materials such as acrylic, fiberglass, cultured marble, and porcelain by using a non-acid refinishing (reglazing, resurfacing) process. This is accomplished by removing unwanted things acquired by age and use like mineral deposits, body oils, soap scum, along with repairing any chips and cracks. Secondly, a special bonding agent is used to ensure a tight seal between the new finish and the old surface. As a final step, a state-of-the-art durable acrylic coating is covers the bathtub in a fine spray finish.
Early Aurora bathtub refinishing reviews are enthusiastic.
George T., from Aurora, recently said in a five-star review, "The bathroom really needed an upgrade, but I really didn't have much time to put aside toward a renovation process. We are all busy people with day-to day-jobs, the family, the kids, the pets. I was pleasantly surprised by the minimal amount of mess from the remodeling of my bathtub and the project was completed in just a few days."
The repair process will typically extend the life of your tub for 12 to 15 years or longer, if basic maintenance and care guidelines are followed.
Full details of the services provided can be found at this URL: https://chicagotubpros.business.site
The location of the business is available here: https://goo.gl/viW8hu
Contact Info:
Name: Jacob Wilson
Organization: Chicago Tub Pros
Address: 318 West Adams Street, Chicago, IL 60606, United States
Phone: +1-773-466-6747
For more information, please visit http://chicagotubpros.com
Source: PressCable
Release ID: 391524